When These Mountains Burn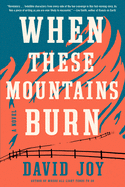 The distraught father of a drug addict gets help from the most unlikely source when he tries to stop the dealers feeding his son's habit in the visceral thriller When These Mountains Burn.
2020, North Carolina: Fire rages through the Tellico Mountains, raining thick ash on towns where rampant drug use is causing another kind of destruction.
Ray Mathis's son, Ricky, has broken into Ray's house yet again. Both father and son know there's nothing left to steal, but a desperate Ricky needs to support his drug habit and that need can't grasp reality. Ricky is on the phone begging his father for help, when a man comes on and threatens to kill Ricky unless Ray pays the money Ricky owes. The dollar amount doesn't matter. Ray doesn't have it because he suffers from his own addiction: the need to save someone who doesn't want to be saved. And just like Ricky, Ray is willing to die for his unhealthy habit. Ray makes a wild attempt to stop the drug dealers on his own, but the local police are corrupt and suddenly Ray is on the run from both the "good" and the bad guys.
David Joy (The Weight of This World) plops readers into the unsettled consciousness of people who tie off, find a vein and inject a needle full of temporary salvation. Reading about the prick, burn and sting of the process is tough, but Joy makes it tougher to judge these characters by allowing the least likely of them to be the hero. --Paul Dinh-McCrillis, freelance reviewer