The Talk: Conversations About Race, Love & Truth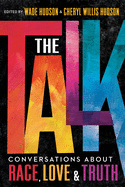 In the reflective anthology The Talk: Conversations About Race, Love & Truth, well-known authors and illustrators use stories, poems, illustrations and letters to share their stories of racism, advocacy and lessons in self-love.
Wade Hudson and Cheryl Willis Hudson (We Rise, We Resist, We Raise Our Voices), founders of Just Us Books, a publishing company dedicated to publishing diverse books for children, have with The Talk brought together a collection of essays, short stories and poems that are essential. Each piece is distinct from the next, and the anthology includes narratives such as a child being told how to conduct themselves in front of cops (Tracey Baptiste, "Ten"); the loneliness at being the only Black person in a room (Sharon Dennis Wyeth, "I'm a Dancer"); and the understanding that conversations about race are tough but necessary to have (Adam Gidwitz, "Our Inheritance"). Though each submission is short, they all hold powerful messages. For example, Meg Medina writes in "Hablar": "No language is better than another. No tongue makes one person more real or important than someone else." These deeply personal stories may console readers who feel outcast and let them know they're not alone.
Through embracing the stories of Asians, Blacks, Latinx and Indigenous people, The Talk's distinctive revelations convey the message that the lives of BIPOC matter. This collection should speak to any child or adult--especially BIPOC children and adults--who has been affected by systemic racism and inspired by the Black Lives Matter movement. --Kharissa Kenner, children's librarian, Bank Street School for Children