Love, Zac: Small-Town Football and the Life and Death of an American Boy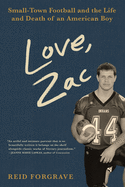 Fulfilling his pledge to make sure Zac Easter didn't die in vain, in Love, Zac: Small-Town Football and the Life and Death of an American Boy, sportswriter Reid Forgrave calls for the United States to examine its football obsession and the evidence that athletes' head injuries cause Chronic Traumatic Encephalopathy (CTE), a debilitating brain disease tied to early death.
At 24, Zac ended his once-promising future with a self-inflicted shotgun blast. One of three boys in a close-knit Iowa "football family," Zac was a tough player from third grade through high school, "always smearing people," while hiding the pain and migraines from at least five concussions. He struggled through college, and pain and depression led to substance abuse. Zac's journals reveal that he suspected CTE, and his suicide letter stressed, "please donate my brain to the sports legacy brain bank." Zac was right; his autopsy revealed CTE.
Alternating with Zac's story, Forgrave covers football history--from 1869 to 2019's multi-billion-dollar sports entertainment industry--and the slow pace of head trauma research. A 2005 study revealing that "the kind of repetitive blows to the head the NFL players experience could cause debilitating brain damage" was for years discredited by the NFL. Zac died in 2015, the year the first-ever meeting about the treatment of concussions convened.
Love, Zac, a heartbreaking biography, also acknowledges football's wide appeal. But Forgrave, a fan, cites the "football hypocrisy" of a country that acknowledges its dangers, positing that "every resource we have" must be used to make it "as safe as possible"--or "renounce the sport completely." (A percentage of the book's sales will go to CTE Hope, a nonprofit dedicated to developing an instant test to identify brain injury levels.) --Cheryl McKeon, bookseller, Book House of Stuyvesant Plaza, Albany, N.Y.