Why Did I Get a B? And Other Mysteries We're Discussing in the Faculty Lounge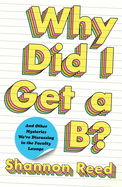 In the opening pages of Shannon Reed's Why Did I Get a B?: And Other Mysteries We're Discussing in the Faculty Lounge, aspiring educators are offered a light-hearted quiz to assess their temperamental compatibility to teaching. This and other chucklesome pieces are among Reed's thoughtful essays reflecting on her 20-year "accidental, perfect career" in a profession that is demanding but offers rewards beyond measure.
Trained in theater, Reed's foray into education began with a reluctant stint as a preschool teacher. She tenderly recalls the specific moment when, during an outdoor lesson with her young students, she fell in love with her job and decided to make it into a career. Why Did I Get a B? is structured in three parts, reflecting the stages of Reed's professional life: preschool, high school and her current position as a writing professor at the University of Pittsburgh.
Confronting what make her chosen career an incredibly challenging one, Reed is also brutally honest about her limited world view when she joined the faculty of a small public high school in South Brooklyn. She eventually learned to see students for who they were as individuals instead of stereotypes based on their appearance, and she cultivated an important teaching skill: the ability to maintain authority without demanding unquestioning obedience.
With an irresistible combination of compassion, humor and engaged storytelling, Why Did I Get a B? is an invaluable and entertaining resource for readers curious about the pros and cons of a career in teaching. --Shahina Piyarali, writer and reviewer