Use the Power You Have: A Brown Woman's Guide to Politics and Political Change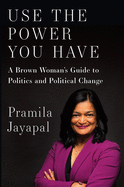 When Pramila Jayapal came to the U.S. at age 16 to attend university, she never imagined she'd one day serve in Congress. But in 2016, Jayapal, a long-time community organizer in the Seattle area and a former Washington State senator, was elected to the House of Representatives just as Donald Trump was elected president. In her second book, Use the Power You Have, Jayapal (Pilgrimage to India) shares her story as an immigrant, an organizer, a mother and a passionate advocate for equality and political change. "Politics at its best," she says, "has human stories at its heart, and logic and methodology in its bones." Both Jayapal's political career and her book--wise, thoughtful and meticulously well-organized--use that same combination of humanity and logical argument to stunning effect.
Jayapal begins by detailing her journey as a young immigrant and her early career bouncing between investment banking and nonprofit work. She then recounts the lessons of her first several political campaigns in Washington, and the transition from being on the outside (as an activist and agitator) to working for change from the inside (as a state senator).
The second part of her book lays out her "moral visions" on three key issues: U.S. immigration policy, Medicare for All and a $15 minimum wage. (Jayapal was part of the coalition that helped pass Seattle's $15 minimum wage in 2014.) The book is both an unusual insider's account of Trump-era politics in D.C. (including Jayapal's relationships with other Democratic leaders) and a fierce call for all citizens, no matter their roles in society, to use the power they have. --Katie Noah Gibson, blogger at Cakes, Tea and Dreams