Unvarnished: A Gimlet-Eyed Look at Life Behind the Bar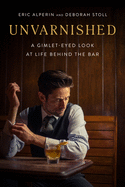 In Unvarnished, Eric Alperin shares how his life changed when he walked into Milk & Honey, a classic cocktail bar in New York City run by Sasha Petraske, who's credited with inventing modern cocktail culture. Alperin was an actor; after receiving his MFA but having no plan or money, he got his bartending diploma and became a "double threat." He eventually realized he had "every applicable neurosis" for bar work. People think he's a junkie, but he's really just a dyslexic who requires stimulation and organization, which he finds to the extreme behind the bar. The actor found the stage of a lifetime, a play that never stops.
Alperin fell hard, diving into all aspects of the trade. Alperin and Petraske eventually teamed up to open The Varnish in Los Angeles, hoping to create a port in a storm, to comfort and mend, celebrate and serve. A place that locals and travelers alike thought of as home, gifted with the "intangible third rail of love."
Part memoir, part bar story and part captivating instructional, Unvarnished is a love story to the cocktail, its culture and those who foster it, Petraske in particular. Alperin's exquisite descriptions of bars, tool setups and mixing will have cocktail enthusiasts salivating. Newcomers will be eager to learn details they never imagined, such as the section on ice (the "bartender's flame," harvested from blocks in techniques dating back to 1800), that shows it's the little things that support a beautiful symphony. --Lauren O'Brien of Malcolm Avenue Review