The Amelia Six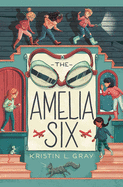 In The Amelia Six, Kristin L. Gray's entertaining middle-grade novel, a group of STEM-loving girls earn a trip to the Amelia Earhart Birthplace Museum. What's in store for them recalls what happens to the five young candy freaks in Roald Dahl's Charlie and the Chocolate Factory: the protagonists are steadily assailed with rapturous wonders and nerve-jangling surprises.
The Amelia Six is narrated by Amelia "Millie" Ashford of Kansas City, one of the six middle-school girls selected for an overnight at Amelia Earhart's childhood home in Atchison, Kansas. The insecure Millie, whose "friends are either online or characters in books," has a challenge beyond the promised Earhart-themed scavenger hunt: fitting in.
The showpiece of the Earhart museum is the goggles that the aviator wore when she made her solo flight across the Atlantic Ocean in 1932; valued at $120,000, the specs are ultimately destined for the Smithsonian Air and Space Museum. When the goggles disappear from their display case, Millie--who had been caught ogling them by the housekeeper--becomes a suspect.
While The Amelia Six can read like a plug for STEM, Gray (Vilonia Beebe Takes Charge) never loses sight of the fact that her book is primarily a caper. Amelia delivers a mystery that will please readers who, like Millie, are into "vintage Nancy Drews" and their ilk. The haunted house-like museum has it all: a secret passageway, ghostly murmurs, an old painting of a sourpuss--all under cover of the requisite dark and stormy night. From this Millie emerges with something even more valuable than Earhart's goggles or Willie Wonka's chocolate factory: a sense of belonging. --Nell Beram, freelance writer and YA author