Friends and Strangers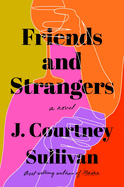 J. Courtney Sullivan's Friends and Strangers is set in a college town in upstate New York and centers on a pair of Brooklynites who have just relocated with their baby, whose care they entrust part-time to a college student.
The novel's perspective is evenly split between new mom Elisabeth Ronson and college senior Samantha O'Connell, who attends the nearby all-women's school. Sam is Elisabeth's salvation: she provides childcare three days a week, giving Elisabeth, a journalist and an author, time to work. Sam also fills the friendship void created when Elisabeth left Brooklyn. The two women become confidantes, although Elisabeth won't tell even Sam the secret that she's keeping from her husband, Andrew. To prevent her irresponsible sister from accepting money from their wealthy but unscrupulous father, Elisabeth has lent her the cash that she and Andrew have set aside in case nothing comes of the solar-powered grill that he's working on through a fellowship at a local college. Sam could have used that money--she's the first person in her family to attend a private college and realistically anticipates a lifetime of student loan debt.
Friends and Strangers is about whether the unfairness of privilege can ever be sufficiently offset by good deeds. And what of bad deeds: Are they forgiven if they result from good intentions? Sam watches Elisabeth meddle without compunction, but when Sam takes a principled stance at one point, it backfires spectacularly. Sullivan (Saints for All Occasions) massages her themes in scenes as barbed as they are funny, by way of characters as infuriating as they are heartbreaking. --Nell Beram, author and freelance writer