About a Rogue: Desperately Seeking Duke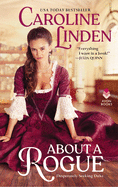 About a Rogue, the intriguing first entry in the Desperately Seeking Duke series from author Caroline Linden (Love and Other Scandals) stars a rake and an independent woman joined in an arranged marriage. And their unusual setting is a fascinating window into England's renowned porcelain and pottery industry.
Sophisticated London gentleman Maximilian St. James is more interested in partnership in the family pottery business than a proposed marriage to Bianca Tate's older sister. When Bianca aids her sister's elopement with another suitor, her infuriated father demands Bianca fulfill the agreement and marry Maximilian herself. Angry, she expects at best a chaste, cordial marriage and a handsome, indolent husband. Max, however, intends to be fully involved in running the prosperous pottery company, with brilliant, innovative business ideas, as well as seducing his new wife.
Neither Bianca nor Maximilian expected to find love in their marriage of inconvenience; fate, on the other hand, has other plans. Proximity, physical attraction and genuine affection soon erase annoyance at their situation. Unfortunately, Maximilian has led a checkered life and is acquainted with some very shady characters. When one of those individuals threatens the security of his newfound family, Maximilian must meet danger with shrewdness and courage. Failure will destroy the woman he's grown to love, an outcome he refuses to accept.
Readers will love this fresh take on a classic plot. The distinctive setting and engaging characters are delightful while the Taming of the Shrew aspects of Bianca and Maximilian's relationship provide tart, insightful dialogue. --Lois Faye Dyer, writer and reviewer