You Brought Me the Ocean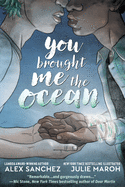 Alex Sanchez (Rainbow Boys) and Julie Maroh (Blue Is the Warmest Color) team up for a gorgeously rendered graphic novel that reimagines the origin story of DC's Aqualad. Part coming-out romance, part superpower discovery tale, this exploration of identity portrays loved ones lending each other incredible strength.
High school senior Jake Hyde dreams of the ocean but lives in the New Mexico desert. His mother has forbidden him to go near water since his father drowned. Overprotective to a fault, she wishes Jake would abandon plans to study oceanography and apply in-state with his best friend, Maria Mendez. Secretly, Maria hopes that if Jake stays, they'll date. No one knows that Jake is gay and crushing on swim team captain Kenny Liu. On a long hike, Jake musters his courage and comes out to Kenny, confiding in him about everything--even his strange skin markings that glow in water. When a flash flood threatens to drown them both, Jake saves the day. But how?
You Brought Me the Ocean masterfully conveys the conflicting emotions behind coming out and self-discovery. By pairing Jake's readiness to pursue a romantic relationship with a boy with the manifestation of his hydrokinesis, Sanchez delivers the vital message that there is more to every member of the LGBTQIAP+ community than their sexual identity. Limiting their art palette to oceanic and earth tones, Maroh adds multiple layers to Sanchez's story: by strategically washing out the desert environment, they let the reader experience Jake's worldview; pops of blues and greens draw the eye to the details Jake values. Depicting the hard-won confidence of a newly out gay teen superhero, You Brought Me the Ocean adds fresh voices from the LGBTQIAP+ community to the DC Universe. --Samantha Zaboski, freelance editor and reviewer