Dolls! Dolls! Dolls! Deep Inside Valley of the Dolls, the Most Beloved Bad Book and Movie of All Time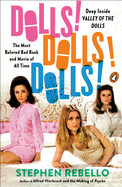 Stephen Rebello (Alfred Hitchcock and the Making of "Psycho" and Bad Movies We Love) is the perfect author to chronicle how Jacqueline Susann's 1966 novel Valley of the Dolls and the 1967 film adaptation overcame universally negative reviews to become one of the top-selling novels of all time and a beloved celluloid camp classic. Rebello succinctly sketches Susann's hardships and triumphs. Prior to writing Valley, she had a son with severe autism, and she received a cancer diagnosis resulting in a radical mastectomy. Thanks to relentless and imaginative self-promotion, Valley stayed on the New York Times bestseller list more than a year and, at its peak, sold 100,000 copies a day. Rebello explains how Susann's "mink-and-mascara-lined kitsch milestone" tapped an audience who didn't normally read books.
When 20th Century Fox bought the movie rights, it hired a top director, two award-winning screenwriters and several Oscar-winning actors. How the movie went so terribly wrong fills the majority of the book with deliciously juicy firsthand observations. It was, according to Rebello, "a production riddled with infighting, feuding, tension, tragedies, missteps, and double dealing." Judy Garland was hired and fired after 10 days of shooting yielded only 90 seconds of usable footage. Patty Duke later quipped, "I realized another month into the filming that Judy was the one who got off easy." Like the novel, the film was critically drubbed but a massive hit. Against all logic (and Susann's lawsuit), the studio began working on a sequel.
Delectable gossip and exhaustive research combine to make Dolls! Dolls! Dolls! delight and sparkle! --Kevin Howell, independent reviewer and marketing consultant